Treatment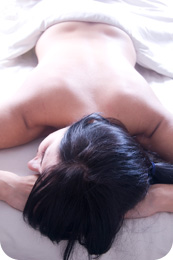 Massage therapy can be an effective treatment for a number of conditions. It encourages your body to heal itself by increasing circulation and blood flow to injured or aching areas. It can also relieve stress and tension, reduce insomnia and generally help you feel supple and more relaxed!
When you come for an appointment, your RMT's selection of treatment or massage type depends on you. Specific strains, stresses or injuries are more appropriate to some types of massage than others. You may have a specific reason for wanting a massage - anything from relief of physical discomfort/pain in a specific area to general relaxation.
The RMTs at A Natural Alternative will work with you to identify what you need and want from your treatment and recommend a treatment plan. Recommendations may include alternative therapies and some homecare exercises.
Please feel free to discuss the treatment recommended by your RMT so that you understand and are comfortable with your visit here! For more information about the types of treatments we offer, please click the links below.
Pregnancy Massage (Body Cushion)